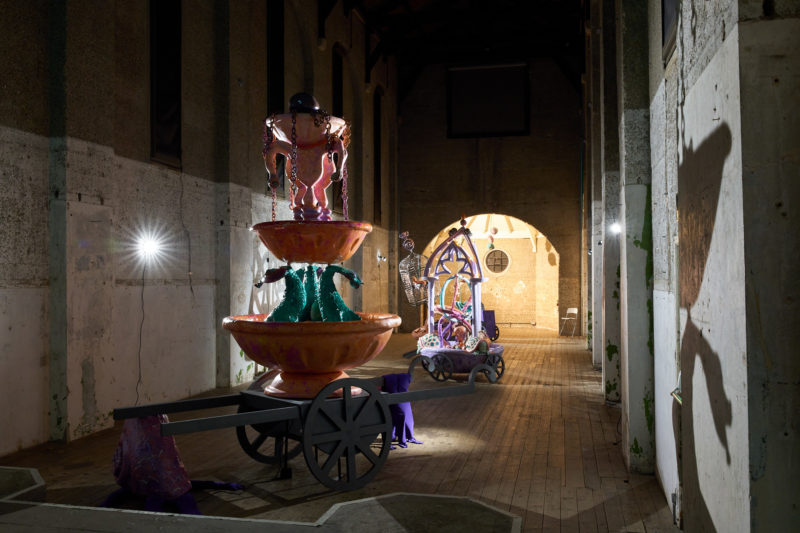 Candida Powell-Williams, 'Tilt Shift: Shadows of the Seasoned Sun' (2022) © the artist. Image courtesy the artist, Southwark Park Galleries. Photograph © Mischa Haller.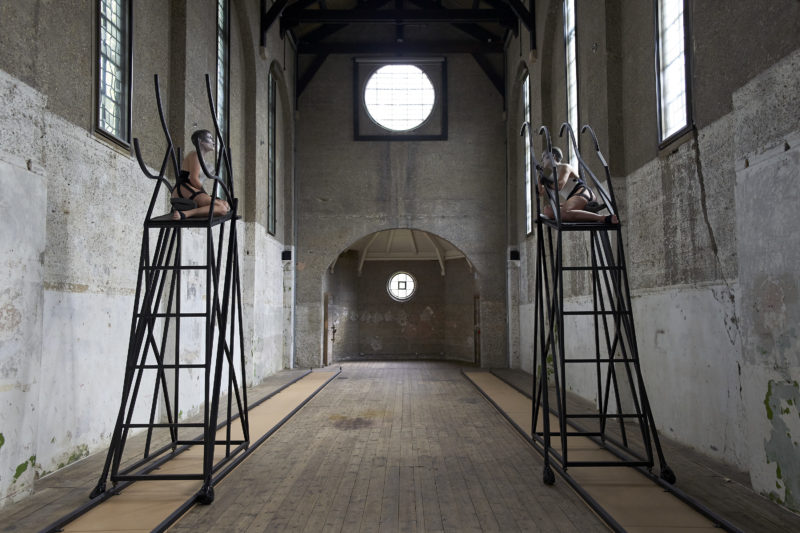 Fani Parali, 'AONYX and DREPAN' (2020). Performance at Southwark Park Galleries. Image courtesy the artist and Southwark Park Galleries. Photograph © Mischa Haller.
Ada's Circle Members:
2022
Aude Fourcade
Marcelle Joseph
Bosse & Baum
2020
Sarah Pickstone
Reine Okuliar
Marcelle Joseph
Eliza Bonham Carter
Ada's Circle is a dedicated group of passionate patrons whose vital support champions and enables major commissions and exhibitions by female identifying and LGBTQI+ artists across both our galleries each year.
The first artist to be supported by Ada's Circle was Fani Parali in Autumn 2020, followed by Candida Powell-Williams in 2022, and Florence Peake in 2023.
Ada's Circle is an integral force behind the extraordinary productions we commission for our vast Dilston Gallery, and surveys at Lake Gallery, their support is integral to help artists to create their most ambitious work to date.
Ada's Circle Annual Membership comprises a minimum donation to the charity of £1,000. Every penny of your support goes directly into the artist's new work.
The circle is named in honour of local Rotherhithe heroine Ada Salter; a passionate social reformer and environmentalist. As a founder of The Women's Labour League and the first female mayor in London (Mayor of Bermondsey, appointed in 1922), Ada was a leader in social change, an environmentalist trail-blazer who fought against the odds for women's suffrage.
Ada's visionary legacy continues to inspire generations of women of all backgrounds and ages in Bermondsey and beyond to keep fighting for equality and environmental change.
Ada is the namesake of our Salter Space community gallery at Lake Gallery, our park's beautiful rose garden, and our Bermondsey Bothy Garden Studio's Feminist-Horticultural Library.
Ada designed Southwark Park's rose garden and much of the park itself, from 1936; instigating radial horticultural design and democratising green space and beauty, to improve air quality (by planting Plane Trees to purify the air), improve mental health, encourage contemplation and bring beauty into stark contrast with the poverty and depression of the industrial era.
We exist to support artists of all ages and backgrounds to make their most ambitious work to date across both our distinctive venues. This successful and unique commissioning model ensures that the work we enable creates a bold step-change in the careers of our artists.
Help us make this happen by joining Ada's Circle today.
To join Ada's Circle or find out other ways you can make a difference to the careers and lives of artists from across the UK, please contact our Director Judith Carlton via admin@southwarkparkgalleries.org or call us on 0207 237 1230 to discuss your donation options.
Or, if you wish to make a donation of any size to Southwark Park Galleries please use the link below: